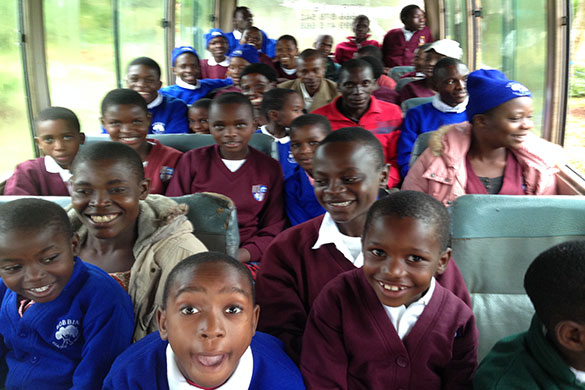 "Yesterday was an unforgettable day for Smile Malawi children because we had a trip to Liwonde National Park. We went on a bus and sang, danced and laughed all the way there. "
---
"When we entered the park we went on 3 boats from Mvuu Camp, each carrying 14 people and everyone was happy. We saw so many animals and trees; hippopotamus, crocodiles, monkeys, bush buck, elephants and beautiful birds. After the boat trip, we learnt about caring for our nature and vegetation which was very interesting. We really appreciated such a wonderful day out to see our beautiful country."
This is how one of our children, 18 year old Caroline Muleso, summed up a grand day out. As an Easter holiday treat, Smile Malawi's founder, Elspeth Baecke, took all the children for a day trip to Liwonde National Park where they took boat trips on the Shire River arranged by Mvuu Camp. The children loved seeing the hundreds of hippos in the river as well as the elephants on the banks. Some of the orphanage staff went along too as they had never seen the animals or the river before, so this trip will be remembered for years to come!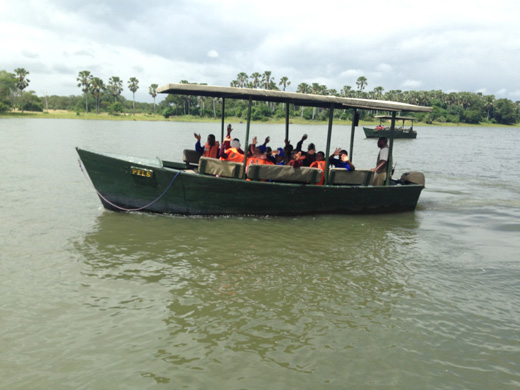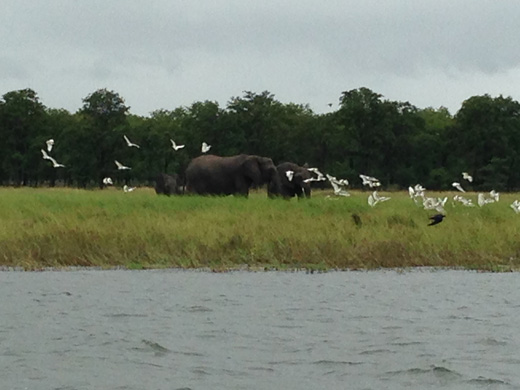 Big news! We have three new children in the Smile Malawi family! Just a few days before Elspeth left for the UK at the end of her recent trip, she was visited by a local woman who told a very sad story. She had once employed a young lady as a housemaid who had tragically passed away last year, leaving all her six children and one grandchild in her care as her employer. Unfortunately there was no trace of any other relatives who would normally take care of the children. The woman could not cope with so many children, so with the Social Welfare service's involvement, Smile Malawi has agreed to give a home to the three youngest ones. 
Here is 6 year-old Yamikani with his 9 year-old brother Emmanuel. Then below is 8 year old Esmie (who is actually the auntie of the other two!). We are sure they will soon settle in with all the other children at Smile Malawi and will thrive with the good food, care and education that we can provide - with your generous help.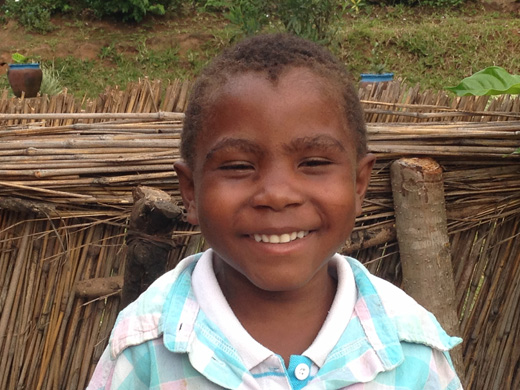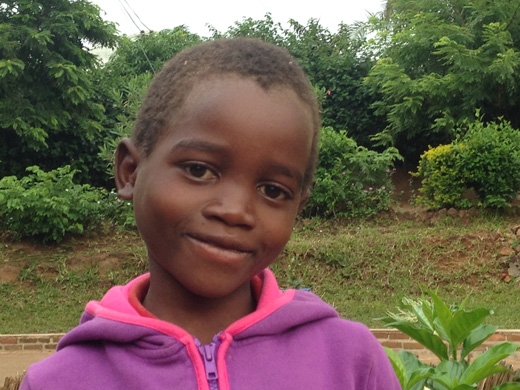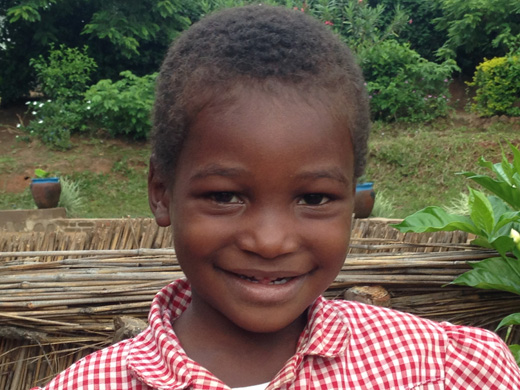 On the Home front...
We have reported in a previous update about the story of 6 year old Gift (his new name as he was previously called Mabvuto, meaning 'problem'). As part of Smile Malawi's outreach work in Kapeya village, we managed to arrange for Gift to have an operation to repair his cleft palette.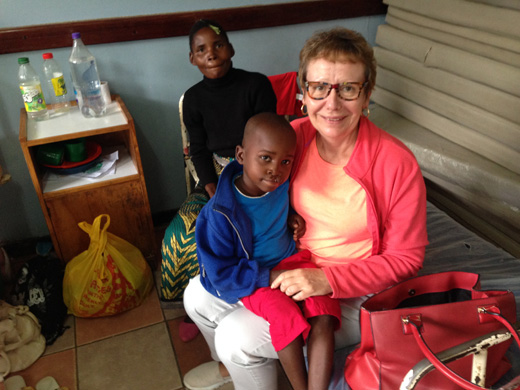 Unfortunately the operation was delayed several times due to his health problems, but we are delighted to report that Gift finally had his op on Tuesday 12 April and will soon have a brand newsmile! Here he is - with Elspeth in the hospital before, and after - still with a rather sore face.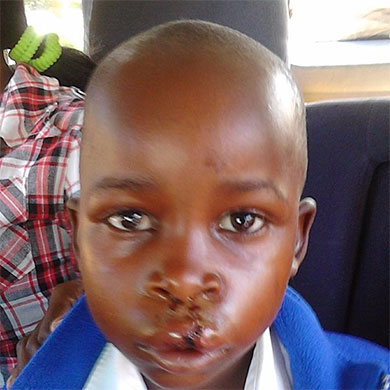 Another report from the Home front: on Saturday 9th April we had to say goodbye to our long-serving cook, whom we have always called Madala (although his real name is Issa!), as he retired. He first met Elspeth in 2004, when she stayed at a friend's house at Lake Malawi where he was the cook. In 2006 he was the first person to stay at the orphanage with our first child, Gift. Since then he has been a loyal and trustworthy employee, who has helped take care of the children with patience and humour. He will be greatly missed but he wanted to go back to live in his home village in Mangochi to live a quiet life for his retirement. We gave Madala a warm send-off with thanks and speeches from everyone.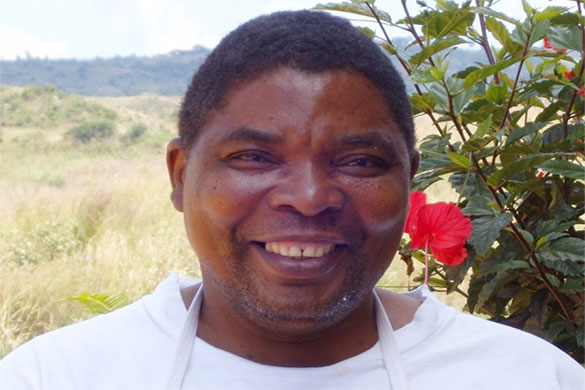 Our thank yous to you...
 In a week's time, 26 year old Laura Chester will be making a marathon effort for Smile Malawi - attempting to complete the Virgin London Marathon on 24th April. All the money she raises goes directly to help Smile Malawi children, so please give her your support. She has a special donation page on Just Giving.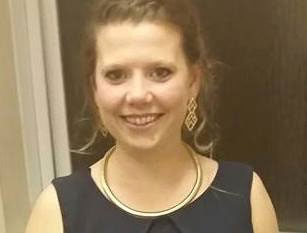 We are always humbled by the generosity of people who give regularly to our charity. One such group is the Northfleet and Ebbsfleet Lions organisation, which has donated an annual cheque for £400 every year since Smile Malawi started its fundraising. Here's Elspeth gratefully receiving this year's donation from Roger Francis.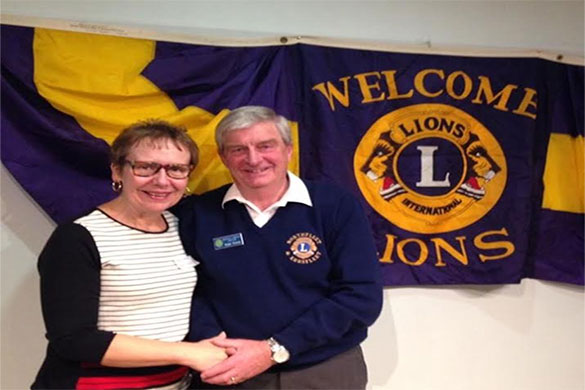 Our plans...
Help us to spread the word about the wonderful work of Smile Malawi! One of our goals for 2016 is to double our mailing list and hopefully double our number of regular supporters - and we need your help! If each of us could forward this news update to up to any friends or family members, who you think will be interested, then all you have to do is click on this link below - 'Forward to a Friend' and it will automatically give you an email form to complete with your own message. It's as easy as that.  
And finally, here's a little reminder that our Round House is now furnished and ready to receive guests. We have a few bookings already but there is still availability during July and August 2016, if any of our supporters would like a holiday with a real difference. Contact Elspeth for further details or download the leaflet from here.